After last month's lengthy and much needed blog post, I realized I needed to play catch up in other regards as well.  I would like to spend more time on the creative, personal, as well as fun, but I cannot do that if I let these older reviews I put off clog my blog space.  Not to short change any of them, mind you, but after so much time, I cannot do them much justice in their own lengthy posts anyway.  So, here are some short rundown's on 5 of the books from my Spring Reading.
Really, all I need to say here is that I have yet another example of a book that just really isn't quite up my alley.  Tananarive Due's The Good House is not a bad book, but it isn't really my style. In short: Angela Toussaint hopes that returning to her Grandma Marie's house, the house of her youth, will bring her some peace, but tragedy follows. Five years later, she returns, hoping to face the demons of her son's death and let them go.  But ghosts and real demons follow, and Angela is left to puzzle out the pieces and solve the mystery her son's death.
A haunting tale, with horror and mystery, you would think I'd embrace it.  But truthfully, I didn't connect to the characters or story as much as I thought I would.  I know this is more me than the quality of the writing or the story itself. It is an interesting tale, but it is a little predictable with too nice of a bow on top.  It reads more as ghost-story written for the NON-ghost crowd rather than them being the primary audience.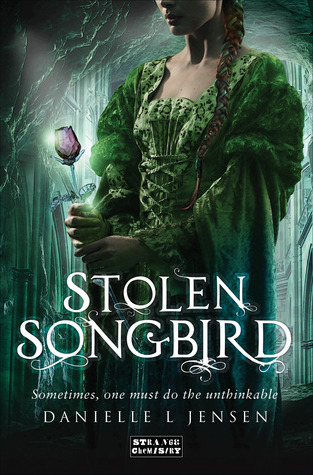 Next up we switch to a very different genre, young adult fantasy.  Stolen Songbird, by Danielle L. Jensen is a bit of a misleading title. On the eve of leaving her home town to study music with her mother, Cecile is kidnapped and forced to marry the Prince of the Trolls.  Trapped under the mountain, where a powerful witch has cursed them, the trolls hope the marriage between human and troll will lift their 500 year old curse.  When it doesn't, Cecile is thrust into a confusing world of politics, betrayal, and unexpected love.
With such a summary, it is no wonder I picked it up: fantasy, music, politics…wooo! However, it is also still a young adult novel…I should have kept that in mind.  Music, or singing, has VERY little to do with the novel, and the annoying romance tropes of "pretending to hate each other" play out here.  But, the politics and intrigue are interesting. The world is interesting, if a little flat, and while I want to see where she takes her version of "trolls," I'm not necessarily sure I like it.  I might read the rest of the series eventually, but I'm not in a rush.
The next book, #20, was a bit of a surprise for me.  Rysa Walker's Timebound was one of those free E-books I picked up on a whim. It took me about a year to actually decide to read it, and I didn't expect much.  However, I was incredibly impressed.  Is it great literature? Definitely not. But, it does embrace originality.  Kate is given a strange glowing medallion and told that she has inherited the ability to travel through time. She doesn't believe it for a second until her world is turned upside down with time shift.  Kate must then travel to 1893 to prevent a murder that threatens her entire future without altering it further.
Overall, it's a quick, fun read that doesn't over complicate (or over simplify) time travel and it's theoretical problems.  Plus, through in a little YA romance, historical fiction, and good old adventure/mystery, and you can't go wrong.
I know I said I'd NEVER read Jim Butcher, but I gave in since one of my very best friends kept recommending it. So for #21, I gave in and tried Storm Front, book #1 of the Dresden Files.  Harry Dresden is a Wizard for hire, a Paranormal Investigator. The Chicago PD comes to him for help with a dark double murder where black magic is involved, and it's up to Harry to stop him
Honestly, with my preconceived notions of this series, it wasn't quite as bad as I thought it would.  However, I'm still not a huge fan. I've been told it gets better, but Dresden is a bit misogynistic, having a thing for the damsel in distress.  I'll give Butcher some credit though, his women aren't necessarily weak and the world is intriguing.  I'd like to understand more of his method of urban fantasy.  Still, the story is fairly flat and not really my thing. Eventually, I'll probably try some more (see Cort…I keep my promises eventually)!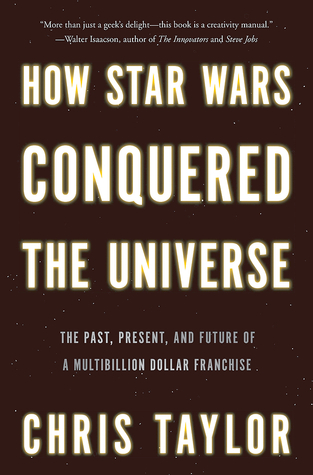 I picked up this book basically because it was an Audible Daily Deal, but I am SOOOOOO happy I did.  Chris Taylor's How Star Wars Conquered the Universe: The Past, Present, and Future of a Multibillion Dollar Franchise, is not only incredibly informative, it's a well written analysis of our popular culture.  Essentially, it's a biography of the Star Wars franchise, not just one person but the entire dream, development, cultural obsessions, fandoms, etc.  It embraces all aspects and doesn't shy from questioning the creative vision when needed. Really, it's a lovely balance of fact, fun, and analysis.  If you like Star Wars at all, I HIGHLY recommend it.
More coming soon….I promise!